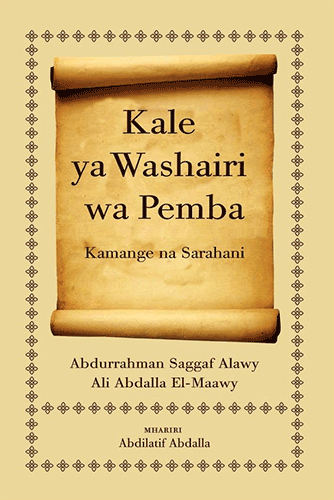 Swahili, a Bantu language in the Niger-Congo, is the lingua franca of the African Great Lakes region and other parts of eastern and southern Africa. According to the most recent 2015 Ethnologue estimates, there are just over 98 million speakers — 16 million first language speakers; 82 million second language speakers. It is the official language of Tanzania and one of at least two official languages in Kenya, Democratic Republic of the Congo, Rwanda, and Uganda. Swahili is also listed as an official language of the African Union. Originally, Swahili was written in Arabic script and borrows many words from the language, a result of strong regional ties to the Arab world via trade and religion.
The earliest known Swahili documents were discovered on the Indian Ocean island of Kilwa along the Swahili Coast, which consists of the coastlines and nearby islands of present day Kenya, Tanzania and northern Mozambique. The island of Pemba is also located within the Swahili Coast, which was the home of Kamange and Sarahani, the authors of the poetry found in Kale ya Wahairi wa Pemba: Kamange na Sarahani (The Past of Pemba Poets: Kamange and Sarahani).  Kamange and Sarahani were contemporaries and fierce rivals during the latter-half of the 19th century until their deaths in the early 20th century. Both were well regarded along the Swahili Coast. Kamange often took up subjects like love and bravery while Sarahani chose religious topics and moral instruction. Among their influences were the culture and environment of the region.  Since both were Muslim, they were also influenced by Islamic literature and the Arabic language, all of which comes out in their writings.
Recognizing the cultural significance of the collection of poetry, Abdurrahman Saggaf Alawy (author of the preface, Shukurani) and Ali Abdala El-Maawy (author, along with Alawy, of the forward, Dibaji) kept the poems safe during the turbulent period during and immediately following the 1964 revolution in Zanzibar. They safely stored the collection for more than 40 years before presenting them to Abdilatif Abdala, editor of this volume, for publication.
Swahili was first offered at UC Berkeley in 1979. Today, elementary through advanced Swahili is offered each semester by Professor David Kyeu. Over the last several years, Swahili enrollment on campus has remained steady with an average of 42 students enrolled each academic term. To support Swahili language use and practice, the Center for African Studies at UC Berkeley hosts a weekly Swahili Language table where Berkeley students as well as members of the larger community can practice and improve their language skills.
Contribution by Adam Clemons
Librarian for African and African American Studies, Doe Library
Title: 
Kale ya Washairi wa Pemba: Kamange na Sarahani
Title in English: 
The Past of Pemba Poets: Kamange and Sarahani
Author: 
Abdilatif Abdalla
Imprint: 
Oxford: African Books Collective, 2012.
Edition:
 1st edition
Language:
 Swahili
Language Family:
 Niger-Congo
Source:
 Project Muse
URL: 
https://muse.jhu.edu/book/22594/
Select print editions at Berkeley: