38

Bosnian-Croatian-Serbian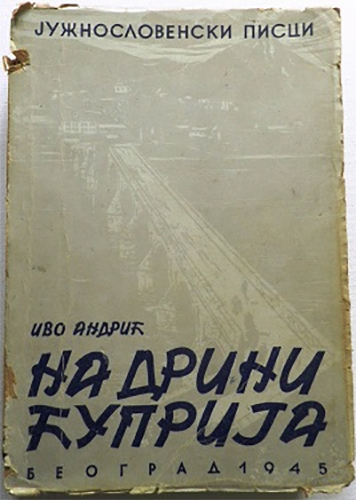 In 1919, following World War I and the Paris Peace Conference, the country later called Yugoslavia came into existence in Southeast Europe. However, the country's name from 1918 to 1929 was the Kingdom of Serbs, Croats and Slovenes. After World War II, this country was renamed the Federal People's Republic of Yugoslavia in 1946. It included the republics of Bosnia-Herzegovina, Croatia, Serbia, Montenegro, Slovenia, Macedonia, and the autonomous provinces of Vojvodina and Kosovo. The language that was known as Serbo-Croatian was spoken in nearly all of Yugoslavia. In 1991, in the aftermath of the dissolution of Yugoslavia  after a period of protracted civil war, all of these constituent parts eventually became independent. First, Slovenia, Croatia, and Bosnia-Herzegovina became independent in 1991. Serbia and Montenegro were joined, under the name Yugoslavia in 2003 and under the name Serbia-Montenegro in 2006. Thus Serbia as such became a separate country only in 2006 when Montenegro proclaimed independence. Kosovo proclaimed independence in 2008 with the support of the United States and allies. Slovenian and Macedonian were already separate languages. However, outside the formerly united country, the name Bosnian-Croatian-Serbian (BCS) became accepted to denote three different languages that are nearly identical to each other in grammar and pronunciation. However, there are some significant differences in vocabulary. Bosnian and Croatian use a Latin based script while Serbian uses both this alphabet and the Cyrillic alphabet. The term BCS was in fact established at the Hague tribunal (ICTY), and the legitimacy gained in this way allowed its  widespread acceptance.
The study of Serbo-Croatian, later BCS, began at UC Berkeley in the aftermath of World War II. Since then the Library's collections in these languages have been growing steadily and now represent one of the stronger components of Library's Slavic collections. At UC Berkeley, the situation dramatically changed with the arrival of Professor Ronelle Alexander in 1978. She has been instrumental in helping the Library build up its exemplary Balkan Studies collections for the last four decades. The diversity of her teaching and research expertise ranges from South Slavic languages (Bulgarian, Macedonian, BCS), literatures of former Yugoslavia, Yugoslav cultural history, South Slavic linguistics, Balkan folklore to East Slavic folklore. Although her primary research accomplishments are in South Slavic linguistics, she has also published research on the most widely known and translated Serbian poet, Vasko Popa, and Yugoslavia's only Nobel prize winner, the prose writer Ivo Andrić.1
It is challenging to find one single work that would represent the complex nature and relationships between Bosnian, Croatian and Serbian. However, one must note that to this day, the Balkans represent a constantly evolving dynamic mosaic of linguistic diversity that shares a relatively compact geographic topos. For this exhibition, I chose one work that theoretically presents a complicated relationship in Balkans — Ivo Andrić's prize-winning novel Na Drini ćuprija ("The Bridge on the Drina") published in 1945.
This historical fiction novel by the Yugoslav writer, Ivo Andrić, revolves around the Mehmed Paša Sokolović Bridge in Višegrad. This bridge is located in Eastern Bosnia and Herzegovina on the Drina River.2 It was built by the Ottomans in the mid-16th century, and was damaged several times during the wars of the 20th century but each time rebuilt. It was never entirely destroyed and the "original bridge" remains, and is now on the World Heritage List of UNESCO.3
The novel chronicles four centuries of regional history, including the Ottoman and Austro-Hungarian occupations. The story highlights the daily lives and inter-communal relationships between Serbs and Bosniaks. Bosnian Muslims-Slavs, now also called Bosniaks. Immediately following World War II, three major works of Ivo Andrić (The Bridge on the Drina, Bosnian Chronicle, and The Woman from Sarajevo) appeared in print almost simultaneously im 1945. Ivo Andrić has been hailed as a major literary figure by both his country's reading public and by the critics. His reputation soared even higher when he was awarded the Nobel Prize for Literature in 1961.4 The Bridge on Drina has been translated into more than 30 languages.
Contribution by Liladhar Pendse
Librarian for East European and Central Asian Studies, Doe Library
Source consulted:
Ronelle Alexander authored an article on Andric titled "Narrative Voice and Listener's Choice in the Prose of Ivo Andrić" in Vucinich, W. S. (1995). Ivo Andrić Revisited: The Bridge Still Stands. Research Series, uciaspubs/research/92. Retrieved from https://escholarship.org/uc/item/8c21m142 (accessed 7/26/19).
Ronelle, Alexander. "What Is Naš? Conceptions of "the Other" in the Prose of Ivo Andrić." スラヴ学論集 = Slavia Iaponica = Studies in Slavic Languages and Literatures. 16 (2013): 6-36. (accessed 7/26/19)
UNESCO World Heritage. "Mehmed Paša Sokolović Bridge in Višegrad." UNESCO World Heritage Centre, whc.unesco.org/en/list/1260.
Moravcevich, Nicholas. "Ivo Andrić and the Quintessence of lpendTime." The Slavic and East European Journal, vol. 16, no. 3, 1972, pp. 313–318. (accessed 7/26/19)
Other online editions::
The Bridge on the Drina. Translated from the Serbo-Croat by Lovett F. Edwards. London: George Allen And Unwin Ltd., [c.1945]. Internet Archive
Select print editions at Berkeley:
The Languages of Berkeley is a dynamic online sequential exhibition celebrating the diversity of languages that have advanced research, teaching and learning at the University of California, Berkeley. It is made possible with support from the UC Berkeley Library and is co-sponsored by the Berkeley Language Center (BLC).