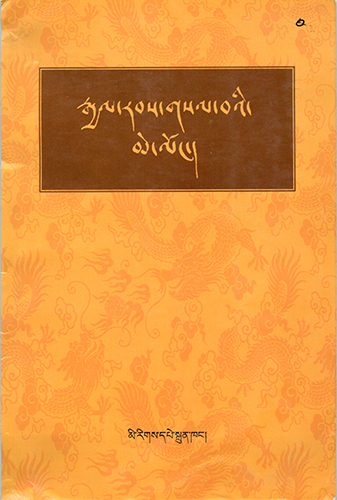 Rgyal rabs gsal ba'i me long is a famous historical work by Sakyapa Sonam Gyaltsen (1312-1375). The text presents Tibetan history such as the origins of the Tibetans, how dharma arrived in Tibet, when Lhasa became the main capital and the Jokhang and Ramoche temples were built. Sakyapa Sonam Gyaltsen was a ruler of Sakya which had a preeminent position in Tibet under the Yuan dynasty. He is considered the greatest Sakya scholar of the 14th century and served as ruler for a short term from 1344 to 1347.
According to McComas Taylor who authored the English translation, "It ranks among the great works of early Tibetan historiographical writing, but outshines all others in both the depth and breadth of its coverage. . . The text is a rich blend of history, legend, poetry, adventure and romance. It may properly be regarded as a literary work, albeit a morally and spiritually uplifting one."  He writes further: "This text has been known by several names. The original Tibetan title, and the one that is most widely recognized, is Clear Mirror on Royal Genealogy, although in the final paragraph the author himself calls the work Clear Mirror on the History of the Dharma. The first wood-block edition was printed at the Tsuglagkhang in 1478 and is therefore known as the Lhasa redaction."
Ever since China annexed Tibet as a province in 1951, the Tibetan language has been proscribed in schools in favor of Mandarin.1 Tibetan Buddhism and its literature are thus at present maintained by a worldwide diaspora, drawing some strength from Tibetan communities of the southern Himalaya beyond the Chinese border.2 There are numerous (and mutually unintelligible) dialects of modern spoken Tibetan, and the study of these dialects — essential for the study of cultural practices such as pilgrimage — is becoming an area of research at several institutions, including UC Berkeley.3 This historical text has been translated into Mongolian, German, and Chinese, and various sections have appeared in Italian and Russian.
Contribution by Susan Xue
Head, Information and Public Services &
Electronic Resources Librarian, C.V. Starr East Asian Library
Sources consulted:
Garry, Jane, and Carl R. G. Rubino. Facts About the World's Languages: An Encyclopedia of the World's Major Languages, Past and Present. New York: H.W. Wilson, 2001.
May, Stephen. Language and Minority Rights: Ethnicity, Nationalism and the Politics of Language. New York: Routledge, 2012.
Institute for South Asia Studies, UC Berkeley (accessed 7/9/20)
Select Print editions at Berkeley:
Bsod-nams-rgyal-mtshan, Sakyapa Sonan Gyaltsen, and B I. Kuznet︠s︡ov, ed. Rgyal Rabs Gsal Ba'i Me Long: The Clear Mirror of Royal Genealogies ; Tibetan Text in Transliteration with an Introduction in English. Leiden: Brill, 1966.
Bsod-nams-rgyal-mtshan, Sakyapa Sonan Gyaltsen. Translated into English by McComas Taylor, and Yuthok Choedak. The Clear Mirror: A Traditional Account of Tibet's Golden Age. Ithaca, NY: Snow Lion Publications, 1996. Preview in Google Books.
Bsod-nams-rgyal-mtshan, Sakyapa Sonan Gyaltsen. Translated into Chinese by Liqian Liu. Xizang Wang Tong Ji. Beijing Shi: Min zu chu ban she, 2000.