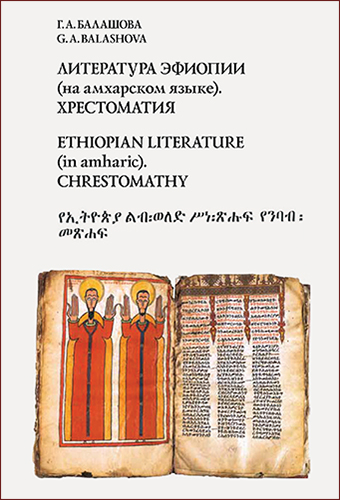 With over 2,000 vernacular languages, sub-Saharan Africa includes approximately one-third of the world's languages.1 Many of these will likely disappear in the next hundred years, displaced by dominant regional languages like Amharic.
Amharic, alternately known as Abyssinian, Amarigna, Amarinya, Amhara, or, simply, Ethiopian, is a Semitic language spoken by over 25 million people. It is part of the Semitic branch of the Afroasiatic language group, which spans, as the name suggests, two continents, primarily West Asia as well as North Africa and the Horn of Africa. In the 13th century, it evolved as a spoken language and replaced Ge'ez as the common means of communication in the imperial court where it was referred to as the language of the king.2 Today, Amharic is spoken as the first language (L1) by the Amhara of the northwest Highlands of Ethiopia. As the official language of Ethiopia, it has become the lingua franca of the country.3
Beyond Amharic's inherent importance in the realm of politics, education, and business as a result of its privileged status as the official language of Ethiopia, it is also a major literary language in the country. Early (pre-20th century) Ethiopian literature often took on religious themes and was published in the ancient Semitic language of Ge'ez. However, by the turn of the 20th century, literary publications in Amharic became more common, signaling the language's ascent. The featured text here, Ethiopian Literature (in Amharic): Chrestomathy, a collection of seventeen samples of Ethiopian literature by various authors, captures the expansion of Amharic influence in literary publications. The collection covers one-hundred years of Ethiopian literary prose beginning with "Story Born at Heart" by Afewerk Ghebre Jesus, originally published in 1908, up to the early 2000s with a piece by one of the great modern Ethiopian writers, Adam Reta. The collection, generously adorned with illustrations throughout, was designed for students of Amharic philology.
At UC Berkeley, based on research interest and student demand, especially from heritage students, with Title VI funding through the Center for African Studies, Amharic language study (at the elementary and intermediate levels) has been offered since the fall of 2019. Students enrolled in Amharic are among the few in the whole of the United States formally studying the language and are at the vanguard in recognizing Africa's increasing importance demographically, socially, and culturally.4
Contribution by Adam Clemons
Librarian for African and African American Studies, Doe Library
Sources consulted:
Moseley, Christopher, and Alexandre Nicolas. Atlas of the World's Languages in Danger. Paris: UNESCO, 2010.
Meyer, Ronny. "Amharic as Lingua Franca in Ethiopia." Lissan: Journal of African Languages and Linguistics. 20 1/2 (2006).
Ethnologue: Languages of the World (accessed 5/16/20)
Saavedra, Martha and Leonardo Arriola. "UC Berkeley Needs to Support African Language Programs" Daily Californian (February 22, 2019) (accessed 5/16/20)
Title: 
Ethiopian Literature (in Amharic): Chrestomathy
Author: 
Galina (Galina Aleksandrovna) Balashova, compiler.
Imprint: 
Lac-Beaport, Quebec : MEABOOKS Inc., 2016. (Baltimore, Md. : Project MUSE, 2015.)
Edition:
 1st edition
Language:
 Amharic
Language Family: 
Afro-Asiatic, South Semitic
Source:
 Project Muse
URL: 
https://muse.jhu.edu/book/48900
 (UCB access only)
Select print editions at Berkeley: