49

Implementing Categories
Categories are conceptual constructs that we use in a mostly invisible way when we talk or think about them. When we organize our kitchens, closets, or file cabinets using shelves, drawers, and folders, these physical locations and containers are visible implementations of our personal category system, but they are not the categories. This distinction between category design and implementation is obvious when we follow signs and labels in libraries or grocery stores to find things, search a product catalog or company personnel directory, or analyze a set of economic data assembled by the government from income tax forms. These institutional categories were designed by people prior to the assignment of resources to them.
This separation between category creation and category implementation prompts us to ask how a system of categories can be implemented. We will not discuss the implementation of categories in the literal sense of building physical or software systems that organize resources. Instead, we will take a higher-level perspective that analyzes the implementation problem to be solved for the different types of categories discussed in "Principles for Creating Categories", and then explain the logic followed to assign resources correctly to them.
Implementing Enumerated Categories
Categories defined by enumeration are easy to implement. The members or legal values in a set define the category, and testing an item for membership means looking in the set for it. Enumerated category definitions are familiar in drop-down menus and form-filling. You scroll through a list of all the countries in the world to search for the one you want in a shipping address, and whatever you select will be a valid country name, because the list is fixed until a new country is born. Enumerated categories can also be implemented with associative arrays (also known as hash tables or dictionaries). With these data structures, a test for set membership is even more efficient than searching, because it takes the same time for sets of any size (see "Kinds of Structures").
Implementing Categories Defined by Properties
The most conceptually simple and straightforward implementation of categories defined by properties adopts the classical view of categories based on necessary and sufficient features. Because such categories are prescriptive with explicit and clear boundaries, classifying items into the categories is objective and deterministic, and supports a well-defined notion of validation to determine unambiguously whether some instance is a member of the category. Items are classified by testing them to determine if they have the required properties and property values. Tests can be expressed as rules:
If instance X has property P, then X is in category Y.

If a home mortgage loan in San Francisco exceeds $625,000, then it is classified as a "jumbo" loan by the US Office of Federal Housing Oversight.

For a number to be classified as prime it must satisfy two rules: It must be greater than 1, and have no positive divisors other than 1 and itself.
This doesn't mean the property test is always easy; validation might require special equipment or calculations, and tests for the property might differ in their cost or efficiency. But given the test results, the answer is unambiguous. The item is either a member of the category or it isn't.[1]
A system of hierarchical categories is defined by a sequence of property tests in a particular order. The most natural way to implement multi-level category systems is with decision trees. A simple decision tree is an algorithm for determining a decision by making a sequence of logical or property tests. Suppose a bank used a sequential rule-based approach to decide whether to give someone a mortgage loan.
If an applicant's annual income exceeds $100,000, and if the monthly loan payment is less than 25% of monthly income, approve the mortgage application.

Otherwise, deny the loan application.
This simple decision tree is depicted in Figure: Rule-based Decision Tree. The rules used by the bank to classify loan applications as "Approved" or "Denied" have a clear representation in the tree. The easy interpretation of decision trees makes them a common formalism for implementing classification models.
Rule-based Decision Tree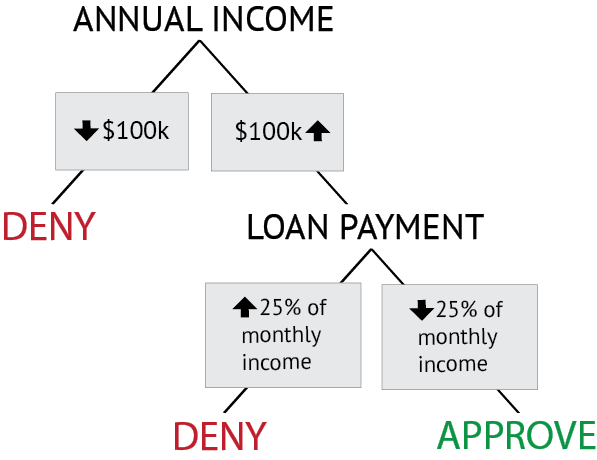 Nevertheless, any implementation of a category is only interpretable to the extent that the properties and tests it uses in its definition and implementation can be understood. Because natural language is inherently ambiguous, it is not the optimal representational format for formally defined institutional categories. Categories defined using natural language can be incomplete, inconsistent, or ambiguous because words often have multiple meanings. This implementation of the bank's procedure for evaluating loans would be hard to interpret reliably:
If applicant is wealthy, and then if the monthly payment is an amount that the applicant can easily repay, then applicant is approved.
To ensure their interpretability, decision trees are sometimes specified using the controlled vocabularies and constrained syntax of "simplified writing" or "business rule" systems.
Artificial languages are a more ambitious way to enable precise specification of property-based categories. An artificial language expresses ideas concisely by introducing new terms or symbols that represent complex ideas along with syntactic mechanisms for combining and operating on them. Mathematical notation, programming languages, schema languages that define valid document instances (see "Specifying Vocabularies and Schemas"), and regular expressions that define search and selection patterns (see "Controlling Values") are familiar examples of artificial languages. It is certainly easier to explain and understand the Pythagorean Theorem when it is efficiently expressed as "H2 = A2 + B2" than with a more verbose natural language expression: "In all triangles with an angle such that the sides forming the angle are perpendicular, the product of the length of the side opposite the angle such that the sides forming the angle are perpendicular with itself is equal to the sum of the products of the lengths of the other two sides, each with itself."[2]
Artificial languages for defining categories have a long history in philosophy and science. (See the sidebar, Artificial Languages for Description and Classification). However, the vast majority of institutional category systems are still specified with natural language, despite its ambiguities because people usually understand the languages they learned naturally better than artificial ones. Sometimes this is even intentional to allow institutional categories embodied in laws to evolve in the courts and to accommodate technological advances.[3]
Data schemas that specify data entities, elements, identifiers, attributes, and relationships in databases and XML document types on the transactional end of the Document Type Spectrum ("Resource Domain") are implementations of the categories needed for the design, development and maintenance of information organization systems. Data schemas tend to rigidly define categories of resources. [5]
In object-oriented programming languages, classes are schemas that serve as templates for the creation of objects. A class in a programming language is analogous to a database schema that specifies the structure of its member instances, in that the class definition specifies how instances of the class are constructed in terms of data types and possible values. Programming classes may also specify whether data in a member object can be accessed, and if so, how.[6]
Unlike transactional document types, which can be prescriptively defined as classical categories because they are often produced and consumed by automated processes, narrative document types are usually descriptive in character. We do not classify something as a novel because it has some specific set of properties and content types. Instead, we have a notion of typical novels and their characteristic properties, and some things that are considered novels are far from typical in their structure and content.[7]
Nevertheless, categories like narrative document types can sometimes be implemented using document schemas that impose only a few constraints on structure and content. A schema for a purchase order is highly prescriptive; it uses regular expressions, strongly data typed content, and enumerated code lists to validate the value of required elements that must occur in a particular order. In contrast, a schema for a narrative document type would have much optionality, be flexible about order, and expect only text in its sections, paragraphs and headings. Even very lax document schemas can be useful in making content management, reuse, and formatting more efficient.
Implementing Categories Defined by Probability and Similarity
Many categories cannot be defined in terms of required properties, and instead must be defined probabilistically, where category membership is determined by properties that resources are likely to share. Consider the category "friend." You probably consider many people to be your friends, but you have longtime friends, school friends, workplace friends, friends you see only at the gym, and friends of your parents. Each of these types of friends represents a different cluster of common properties. If someone is described to you as a potential friend or date, how accurately can you predict that the person will become a friend? (See the sidebar, Finding Friends and Dates: Lessons for Learning Categories)
Probabilistic categories can be challenging to define and use because it can be difficult to keep in mind the complex feature correlations and probabilities exhibited by different clusters of instances from some domain. Furthermore, when the category being learned is broad with a large number of members, the sample from which you learn strongly shapes what you learn. For example, people who grow up in high-density and diverse urban areas may have less predictable ideas of what an acceptable potential date looks like than someone in a remote rural area with a more homogeneous population.
More generally, if you are organizing a domain where the resources are active, change their state, or are measurements of properties that vary and co-occur probabilistically, the sample you choose strongly affects the accuracy of models for classification or prediction. In The Signal and the Noise, statistician Nate Silver explains how many notable predictions failed because of poor sampling techniques. One common sampling mistake is to use too short a historical window to assemble the training dataset; this is often a corollary of a second mistake, an over reliance on recent data because it is more available. For example, the collapse of housing prices and the resulting financial crisis of 2008 can be explained in part because the models that lenders used to predict mortgage foreclosures were based on data from 1980-2005, when house prices tended to grow higher. As a result, when mortgage foreclosures increased rapidly, the results were "out of sample" and were initially misinterpreted, delaying responses to the crisis.
Samples from dynamic and probabilistic domains result in models that capture this variability. Unfortunately, because many forecasters want to seem authoritative, and many people do not understand probability, classifications or predictions that are inherently imprecise are often presented with certainty and exactness even though they are probabilistic with a range of outcomes. Silver tells the story of a disastrous 1997 flood caused when the Red River crested at 54 feet when the levees protecting the town of Grand Forks were at 51 feet. The weather service had predicted a crest between 40 and 58 feet, but emphasized the midpoint of the range, which was 49 feet. Unfortunately, most people interpreted this probabilistic prediction as if it were a binary classification, "flood" versus "no flood," ignored the range of the forecast, and failed to prepare for a flood that had about a 35% chance of occurring.[8]
Implementing Goal-Based Categories
Goal-based categories are highly individualized, and are often used just once in a very specific context. However, it is useful to consider that we could implement model goal-derived categories as rule-based decision trees by ordering the decisions to ensure that any sub-goals are satisfied according to their priority. We could understand the category "Things to take from a burning house" by first asking the question "Are there living things in the house?" because that might be the most important sub-goal. If the answer to that question is "yes," we might proceed along a different path than if the answer is "no." Similarly, we might put a higher priority on things that cannot be replaced (Grandma's photos) than those that can (passport).
Implementing Theory-Based Categories
Theory-based categories arise in domains in which the items to be categorized are characterized by abstract or complex relationships with their features and with each other. With this model an entity need not be understood as inherently possessing features shared in common with another entity. Rather, people project features from one thing to another in a search for congruities between things, much as clue receivers in the second round of the Pyramid game search for congruities between examples provided by the clue giver in order to guess the target category. For example, a clue like "screaming baby" can suggest many categories, as can "parking meter." But the likely intersection of the interactions one can have with babies and parking meters is that they are both "Things you need to feed."
Theory-based categories are created as cognitive constructs when we use analogies and classify because things brought together by analogy have abstract rather than literal similarity. The most influential model of analogical processing is Structure Mapping, whose development and application have been guided by Dedre Gentner for over three decades.
The key insight in Structure Mapping is that an analogy "a T is like B" is created by matching relational structures and not properties between the base domain B and a target domain T. We take any two things, analyze the relational structures they contain, and align them to find correspondences between them. The properties of objects in the two domains need not match, and in fact, if too many properties match analogy goes away and we have literal similarity:
Analogy: The hydrogen atom is like our solar system

Literal Similarity: The X12 star system in the Andromeda galaxy is like our solar system
Structure Mapping theory was implemented in the Structure-Mapping Engine (SME), which both formalized the theory and offered a computationally-tractable algorithm for carrying out the process of mapping structures and drawing inferences.[16]
---