59

Structuring Descriptions
Choosing how to structure resource descriptions is a matter of making principled and purposeful design decisions in order to solve specific problems, serve specific purposes, or bring about some desirable property in the descriptions. Most of these decisions are specific to a domain: the particular context of application for the organizing system being designed and the kinds of interactions with resources it will enable. Making these kinds of context-specific decisions results in a model of that domain. (See "Abstraction in Resource Description".)
Over time, many people have built similar kinds of descriptions. They have had similar purposes, desired similar properties, and faced similar problems. Unsurprisingly, they have converged on some of the same decisions. When common sets of design decisions can be identified that are not specific to any one domain, they often become systematized in textbooks and in design practices, and may eventually be designed into standard formats and architectures for creating organizing systems. These formally recognized sets of design decisions are known as abstract models or metamodels. Metamodels describe structures commonly found in resource descriptions and other information resources, regardless of the specific domain. While any designer of an organizing system will usually create a model of her specific domain, she usually will not create an entirely new metamodel but will instead make choices from among the metamodels that have been formally recognized and incorporated into existing standards. The resulting model is sometimes called a "domain-specific language." Reusing standard metamodels can bring great economical advantages, as developers can reuse tools designed for and knowledge about these metamodels, rather than having to start from scratch.
In the following sections, we examine some common kinds of structures used as the basis for metamodels. But first, we consider a concrete example of how the structure of resource descriptions supports or inhibits particular uses. As we explained in Foundations for Organizing Systems, the concept of a resource de-emphasizes the differences between physical and digital things in favor of focusing on how things, in general, are used to support goal-oriented activity. Different kinds of books can be treated as information resources regardless of the particular mix of tangible and intangible properties they may have. Since resource descriptions are also information resources, we can similarly consider how their structures support particular uses, independent of whether they are physical, digital, or a mix of both.
A Batten Card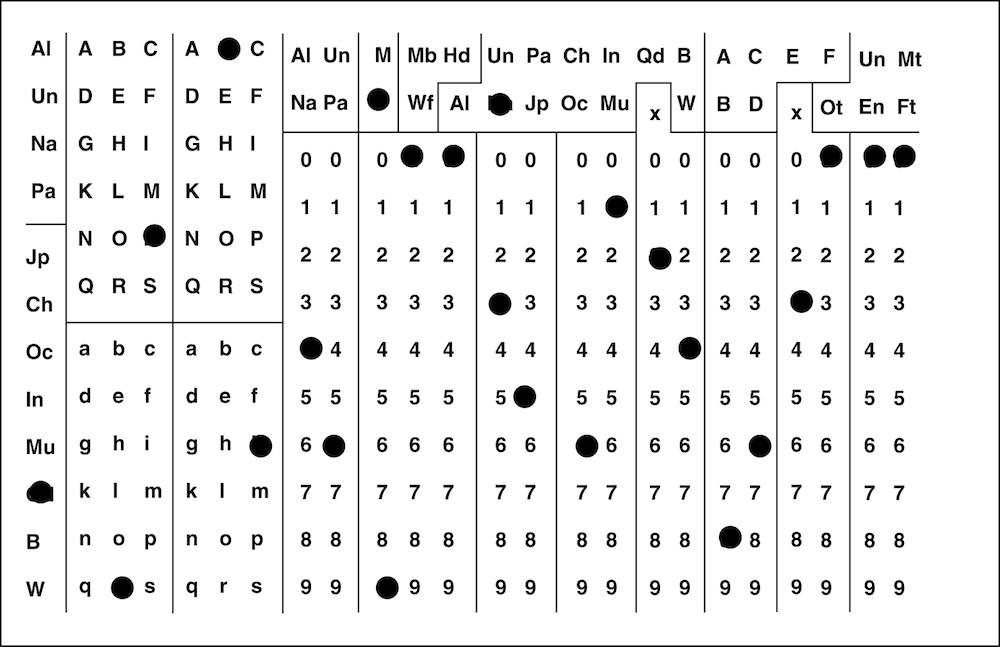 During World War II, a British chemist named W. E. Batten developed a system for organizing patents.[1] The system consisted of a language for describing the product, process, use, and apparatus of a patent, and a way of using punched cards to record these descriptions. Batten used cards printed with matrices of 800 positions (see Figure: A Batten Card.). Each card represented a specific value from the vocabulary of the description language, and each position corresponded to a particular patent. To describe patent #256 as covering extrusion of polythene to produce cable coverings, one would first select the cards for the values polythene, extrusion, and cable coverings, and then punch each card at the 256th position. The description of patent #256 would thus extend over these three cards.
The advantage of this structure is that to find patents covering extrusion of polythene (for any purpose), one needs only to select the two cards corresponding to those values, lay one on top of the other, and hold them up to a light. Light will shine through wherever there is a position corresponding to a patent described using those values. Patents meeting a certain description are easily found due to the structure of the cards designed to describe the patents.
Of course, this system has clear disadvantages as well. Finding the concepts associated with a particular patent is tedious, because every card must be inspected. Adding a new patent is relatively easy as long as there is an index that allows the cards for specific concepts to be located quickly. However, once the cards run out of space for punching holes, the whole set of cards must be duplicated to accommodate more patents: a very expensive operation. Adding new concepts is potentially easy: simply add a new card. But if we want to be able to find existing patents using the new concept, all the existing patents would have to be re-examined to determine whether their positions on the new card should be punched: also an expensive operation.
The structure of Batten's cards supported rapid selection of resources given a partial description. The kinds of structures we will examine in the following sections are not quite so elaborate as Batten's cards. But like the cards, each kind of structure supports more efficient mechanical execution of certain operations, at the cost of less efficient execution of others.
Kinds of Structures
Sets, lists, dictionaries, trees, and graphs are kinds of structures that can be used to form resource descriptions. As we shall see, each of these kinds is actually a family of related structures. These structures are abstractions: they describe formal structural properties in a general way, rather than specifying an exact physical or textual form. Abstractions are useful because they help us to see common properties shared by different specific ways of organizing information. By focusing on these common properties, we can more easily reason about the operations that different forms support and the affordances that they provide, without being distracted by less relevant details.
Comparing Metamodels: JSON, XML and RDF
Now that we are familiar with the various kinds of metamodels used to structure resource descriptions, we can take a closer look at some specific metamodels. A detailed comparison of the affordances of different metamodels is beyond the scope of this chapter. Here we will simply take a brief look at three popular metamodels—JSON, XML, and RDF—in order to see how they further specify and constrain the more general kinds of metamodels introduced above.
JSON
JavaScript Object Notation (JSON)

JavaScript Object Notation(JSON) is a textual format for exchanging data that borrows its metamodel from the JavaScript programming language. Specifically, the JSON metamodel consists of two kinds of structures found in JavaScript: lists (called "arrays" in JavaScript) and dictionaries (called "objects" in JavaScript). Lists and dictionaries contain values, which may be strings of text, numbers, Booleans (true or false), or the null (empty) value. Again, these types of values are taken directly from JavaScript. Lists and dictionaries can be values too, meaning lists and dictionaries can be nested within one another to produce more complex structures such as tables and trees.
Lists, dictionaries, and a basic set of value types constitute the JSON metamodel. Because this metamodel is a subset of JavaScript, the JSON metamodel is very easy to work with in JavaScript. Since JavaScript is the only programming language that is available in all web browsers, JSON has become a popular choice for developers who need to work with data and resource descriptions on the web. (See "Writing Systems" later in this chapter.) Furthermore, many modern programming languages provide data structures and value types equivalent to those provided by JavaScript. So, data represented as JSON is easy to work with in many programming languages, not just JavaScript.
XML Information Set
The XML Information Set metamodel is derived from data structures used for document markup. (See "Metadata".) These markup structures—elements and attributes—are well suited for programmatically manipulating the structure of documents and data together.[13]
XML Infoset

The XML Infoset is a tree structure, where each node of the tree is defined to be an "information item" of a particular type. Each information item has a set of type-specific properties associated with it. At the root of the tree is a "document item," which has exactly one "element item" as its child. An element item has a set of attribute items, and a list of child nodes. These child nodes may include other element items, or they may be character items. (See "Kinds of Structures" below for more on characters.) Attribute items may contain character items, or they may contain typed data, such as name tokens, identifiers and references. Element identifiers and references (ID/IDREF) may be used to connect nodes, transforming a tree into a graph. (See the sidebar, Inclusions and References.)[14]
Figure: A Description Structure. is a graphical representation of how an XML document might be used to structure part of a description of an author and his works. This example demonstrates how we might use element items to model the domain of the description, by giving them names such as author and title. The character items that are the children of these elements hold the content of the description: author names, book titles, and so on. Attribute items are used to hold auxiliary information about this content, such as its language.
This example also demonstrates how the XML Infoset supports mixed content by allowing element items and character items to be "siblings" of the same parent element. In this case, the Infoset structure allows us to specify that the book description can be displayed as a line of text consisting of the original title and the translated title in parentheses. The elements and attributes are used to indicate that this line of text consists of two titles written in different languages, not a single title containing parentheses.
If not for mixed content, we could not write narrative text with hypertext links embedded in the middle of a sentence. It gives us the ability to identify the subcomponents of a sentence, so that we could distinguish the terms "Sebald," "walking" and "East Anglia" as an author and two subjects.
Using schemas to define data representation formats is a good practice that facilitates shared understanding and contributes to long-term maintainability in institutional or business contexts. An XML schema represents a contract among the parties subscribing to its definitions, whereas JSON depends on out-of-band communication among programmers. The notion that "the code is the documentation" may be fashionable among programmers, but modelers prefer to design at a higher level of abstraction and then implement.
The XML Infoset presents a strong contrast to JSON and does not always map in a straightforward way to the data structures used in popular web scripting languages. Whereas JSON's structures make it easier for object-oriented programmers to readily exchange data, they lack any formal schema language and cannot easily handle mixed content.
RDF
In Figure: Descriptions Linked into a Graph., we structured our resource description as a graph by treating resources, properties, and values as nodes, with edges reflecting their combination into descriptive statements. However, a more common approach is to treat resources and values as nodes, and properties as the edges that connect them. Figure: Treating Properties as Edges Rather Than Nodes. shows the same description as Figure: Descriptions Linked into a Graph., this time with properties treated as edges. This roughly corresponds to the particular kind of graph metamodel defined by RDF. ("Resource Description Framework (RDF)")
Treating Properties as Edges Rather Than Nodes
We have noted that we can treat a graph as a set of pairs of nodes, where each pair may be connected by an edge. Similarly, we can treat each component of the description in Figure: Treating Properties as Edges Rather Than Nodes. as a pair of nodes (a resource and a value) with an edge (the property) linking them. In the RDF metamodel, a pair of nodes and its edge is called a triple, because it consists of three parts (two nodes and one edge). The RDF metamodel is a directed graph, so it identifies one node (the one from which the edge is pointing) as the subject of the triple, and the other node (the one to which the edge is pointing) as its object. The edge is referred to as the predicate or (as we have been saying) property of the triple.
Listing Triples Individually
Figure: Listing Triples Individually. lists separately all the triples in Figure: Treating Properties as Edges Rather Than Nodes. However, there is something missing in Figure: Listing Triples Individually.. Figure: Treating Properties as Edges Rather Than Nodes. clearly indicates that the Winfried George Sebald who is the subject of book 1 is the same Winfried George Sebald who is the author of book 2. In Figure: Listing Triples Individually. this relationship is not clear. How can we tell if the Winfried George Sebald of the third triple is the same as the Winfried George Sebald of the triple statement? For that matter, how can we tell if the first three triples all involve the same book 1? This is easy to show in a diagram of the entire description graph, where we can have multiple edges attached to a node. But when we disaggregate that graph into triples, we need some way of uniquely referring to nodes. We need identifiers ("Choosing Good Names and Identifiers"). When two triples have nodes with the same identifier, we can know that it is the same node. RDF achieves this by associating URIs with nodes. (See "Resource Description Framework (RDF)")
The need to identify nodes when we break down an RDF graph into triples becomes important when we want to "write" RDF graphs—create textual representations of them instead of depicting them—so that they can be exchanged as data. Tree structures do not necessarily have this problem, because it is possible to textually represent a tree structure without having to mention any node more than once. Thus, one price paid for the generality and flexibility of graph structures is the added complexity of recording, representing or writing those structures.
Choosing Your Constraints
This tradeoff between flexibility and complexity illustrates a more general point about constraints. In the context of managing and interacting with resource descriptions, constraints are a good thing. As discussed above, a tree is a graph with very specific constraints. These constraints allow you to do things with trees that are not possible with graphs in general, such as representing them textually without repeating yourself, or uniquely identifying nodes by the path from the root of the tree to that node. This can make managing descriptions and the resources they describe easier and more efficient—if a tree structure is a good fit to the requirements of the organizing system. For example, an ordered tree structure is a good fit for the hierarchical structure of the content of a book or book-like document, such as an aircraft service manual or an SEC filing. On the other hand, the network of relationships among the people and organizations that collaborated to produce a book might be better represented using a graph structure. XML is most often used to represent hierarchies, but is also capable of representing network structures.
Modeling within Constraints
A metamodel imposes certain constraints on the structure of our resource descriptions. But in organizing systems, we usually need to further specify the content and composition of descriptions of the specific types of resources being organized. For example, when designing a system for organizing books, it is not sufficient to say that a book's description is structured using XML, because the XML metamodel constrains structure and not the content of descriptions. We need also to specify that a book description includes a list of contributors, each entry of which provides a name and indicates the role of that contributor. This kind of specification is a model to which our descriptions of books are expected to conform. (See "Abstraction in Resource Description".)
When designing an organizing system we may choose to reuse a standard model. For example, ONIX for Books is a standard model (conforming to the XML metamodel) developed by the publishing industry for describing books.[22]
If no such standard exists, or existing standards do not suit our needs, we may create a new model for our specific domain. But we will not usually create a new metamodel: instead we will make choices from among the metamodels, such as JSON, XML, or RDF, that have been formally recognized and incorporated into existing standards. Once we have selected a metamodel, we know the constraints we have to work with when modeling the resources and collections in our specific domain.[23]
Specifying Vocabularies and Schemas
Creating a model for descriptions of resources in a particular domain involves specifying the common elements of those descriptions, and giving those elements standard names. (See "The Process of Describing Resources") The model may also specify how these elements are arranged into larger structures, for example, how they are ordered into lists nested into trees. Metamodels vary in the tools they provide for specifying the structure and composition of domain-specific models, and in the maturity and robustness of the methods for designing them.[24] RDF and XML each provide different, metamodel-specific tools to define a model for a specific domain. But not every metamodel provides such tools.
In XML, models are defined in separate documents known as schemas. An XML schema defining a domain model provides a vocabulary of terms that can be used as element and attribute names in XML documents that adhere to that model. For example, Onix for Books schema specifies that an author of a book should be called a Contributor, and that the page count should be called an Extent. An XML schema also defines rules for how those elements, attributes, and their content can be arranged into higher-level structures. For example, the Onix for Books specifies that the description of a book must include a list of Contributor elements, that this list must have at least one element in it, and that each Contributor element must have a ContributorRole child element.
If an XML schema is given an identifier, XML documents can use that identifier to indicate that they use terms and rules from that schema. An XML document may use vocabularies from more than one XML schema.[25] Associating a schema with an XML instance enables validation: automatically checking that vocabulary terms are being used correctly.[26]
If two descriptions share the same XML schema and use only that schema, then combining them is straightforward. If not, it can be problematic, unless someone has figured out exactly how the two schemas should "map" to one another. Finding such a mapping is not a trivial problem, as XML schemas may differ semantically, lexically, structurally, or architecturally despite sharing a common implementation form. (See Describing Relationships and Structures.)
Tree structures can vary considerably while still conforming to the XML Infoset metamodel. Users of XML often specify rules for checking whether certain patterns appear in an XML document (document-level validation). This is less often done with RDF, because graphs that conform to the RDF metamodel all have the same structure: they are all sets of triples. This shared structure makes it simple to combine different RDF descriptions without worrying about checking structure at the document level. However, sometimes it is desirable to check descriptions at the document level, as when part of a description is required. As with XML, if consumers of those descriptions want to assert that they expect those descriptions to have a certain structure (such as a required property), they must check them at the document level.
Because the RDF metamodel already defines structure, defining a domain-specific model in RDF mainly involves specifying URIs and names for predicates. A set of RDF predicate names and URIs is known as an RDF vocabulary. Publication of vocabularies on the web and the use of URIs to identify and refer to predicate definitions are key principles of Linked Data and the Semantic Web. (Also see "The Semantic Web and Linked Data", as well as later in this chapter.)[27]
For example, the Resource Description and Access(RDA) standard for cataloging library resources includes a set of RDF vocabularies defining predicates usable in cataloging descriptions. One such predicate is:
        <http://rdvocab.info/Elements/extentOfText>
which is defined as "the number and type of units and/or subunits making up a resource consisting of text, with or without accompanying illustrations." The vocabulary further specifies that this predicate is a refinement of a more general predicate:
        <http://rdvocab.info/Elements/extent>
which can be used to indicate, "the number and type of units and/or subunits making up a resource" regardless of whether it is textual or not.
JSON lacks any standardized way to define which terms can be used. That does not mean one cannot use a standard vocabulary when creating descriptions using JSON, only that there is no agreed-upon way to use JSON to communicate which vocabulary is being used, and no way to automatically check that it is being used correctly.
Controlling Values
So far, we have focused on how models specify vocabularies of terms and how those terms can be used in descriptions. But models may also constrain the values or content of descriptions. Sometimes, a single model will define both the terms that can be used for property names and the terms that can be used for property values. For example, an XML schema may enumerate a list of valid terms for an attribute value.[28]
Often, however, there are separate, specialized vocabularies of terms intended for use as property values in resource descriptions. Typically these vocabularies provide values for use within statements that describe what a resource is about. Examples of such subject vocabularies include the Library of Congress Subject Headings(LOC-SH) and the Medical Subject Headings(MeSH).[29] Other vocabularies may provide authoritative names for people, corporations, or places. Classification schemes are yet another kind of vocabulary, providing the category names for use as the values in descriptive statements that classify resources.
Because different metamodels take different approaches to specifying vocabularies, there will usually be different versions of these vocabularies for use with different metamodels. For example the LCSH are available both as XML conforming to the Metadata Authority Description Standard(MADS) schema, and as RDF using the Simple Knowledge Organization System(SKOS) vocabulary.
Specifying a vocabulary is just one way models can control what values can be assigned to properties. Another strategy is to specify what types of values can be assigned. For example, a model for book descriptions may specify that the value of a pages property must be a positive integer. Or it could be more specific; a course catalog might give each course an identifier that contains a two-letter department code followed by a 1-3 digit course number. Specifying a data type like this with a regular expression narrows down the set of possible values for the property without having to enumerate every possible value. (See the sidebar.)
In addition to or in lieu of specifying a type, a model may specify an encoding scheme for values. An encoding scheme is a specialized writing system or syntax for particular types of values. For example, a model like Atom for describing syndicated web content requires a publication date. But there are many different ways to write dates: 9/2/76, 2 Sept. 1976, September 2nd 1976, etc. Atom also specifies an encoding scheme for date values. The encoding scheme is RFC3339, a standard for writing dates. When using RFC3339, one always writes a date using the same form: 1976-09-02.[30]
Encoding schemes are often defined in conjunction with standardized identifiers. (See "Make Names Informative".) For example, International Standard Book Numbers(ISBN) are not just sequences of Arabic numerals: they are values written using the ISBN encoding scheme. This scheme specifies how to separate the sequence of numerals into parts, and how each of these parts should be interpreted. The ISBN 978-3-8218-4448-0 has five parts, the first three of which indicate that the resource with this identifier is 1) a product of the book publishing industry, 2) published in a German-speaking country, and 3) published by the publishing house Eichborn.
Encoding schemes can be viewed as very specialized models of particular kinds of information, such as dates or book identifiers. But because they specify not only the structure of this information, but also how it should be written, we can also view them as specialized writing systems. That is, encoding schemes specify how to textually represent information.
In the second half of this chapter, we will focus on the issues involved in textually representing resource descriptions—writing them. Graphs, trees, dictionaries, lists, and sets are general types of structures found in different metamodels. Thinking about these broad types and how they fit or do not fit the ways we want to model our resource descriptions can help us select a specific metamodel. Specific metamodels such as the XML Infoset or RDF are formalized and standardized definitions of the more general types of structures discussed above. Once we have selected a metamodel, we know the constraints we have to work with when modeling the resources and collections in our specific domain. But because metamodels are abstract and exist only on a conceptual level, they can only take us so far. If we want to create, store, and exchange individual resource descriptions, we need to make the structures defined by our abstract metamodels concrete. We need to write them.
---