33

The Process of Describing Resources
We prefer the general concept of resource description over the more specialized ones of bibliographic description and metadata because it makes it easier to see the issues that cut across the domains where those terms dominate. In addition, it enables us to propose more standard process that we can apply broadly to the use of resource descriptions in organizing systems. A shared vocabulary enables the sharing of lessons and best practices.
The process of describing resources involves seven interdependent and iterative steps. We begin with a generic summary of the process to set the stage for a detailed step-by-step discussion.
Identifying resources to describe is the first step; this topic is covered in detail in "Resource Identity". The resource domain and scope circumscribe the describable properties and the possible purposes that descriptions might serve. The resource focus determines which are primary information resources and which ones are treated as the corresponding resource descriptions. Two important decisions at this stage are granularity of description—are we describing individual resources or collections of them?—and the abstraction level—are we describing resource instances, parts of them, or resource types?

Generally, the purpose of resource description is to support the activities common to all organizing systems: selecting, organizing, interacting with, and maintaining resources, as we saw in Activities in Organizing Systems. The particular resource domain and the context in which descriptions are created and used imposes more specific requirements and constraints on the purposes that resource description can serve.

Once the purposes of description in terms of activities and interactions have been determined, the specific properties of the resources that are needed to enable them can be identified. The goal of description is not to be exhaustive; there are always more possible properties than can be reasonably described. Instead, the challenge is to use the properties that are most robust and reliable for supporting the desired interactions.

This step includes several logical and semantic decisions about how the resource properties will be described. What terms or element names should be used to identify the resource properties we have chosen to describe? Are there rules or constraints on the types of data or values that the property descriptions can assume? When dealing with numerical descriptions, their data types and levels of measurement constrain the kinds of processing to which they may submit. Nominal, ordinal, interval, and ratio data each are limited to particular transformations based on what they represent. A good description vocabulary will be easy to assign when creating resource descriptions and easy to understand when using them.

The logical and semantic decisions about the description vocabulary are reified by decisions about the notation, syntax, and structure of the descriptions. Taken together, these decisions collectively determine what we call the form or encoding of the resource descriptions. The implementation of the descriptions involves decisions about how and where they are stored and the technology used to create, edit, store, and retrieve them.

Resource descriptions are created by individuals, by informal or formal groups of people, or by automated or computational means. Some types of descriptions can only be created by people, some types of descriptions can only be created by automated or algorithmic techniques, and some can be created in either manner.

The resource descriptions must be evaluated with respect to their intended purposes. The results of this evaluation will help determine which or the preceding steps need to be redone.
The next seven sub-sections discuss each of these steps in detail. A quick reference guide is Figure: The Process of Describing Resources.
The Process of Describing Resources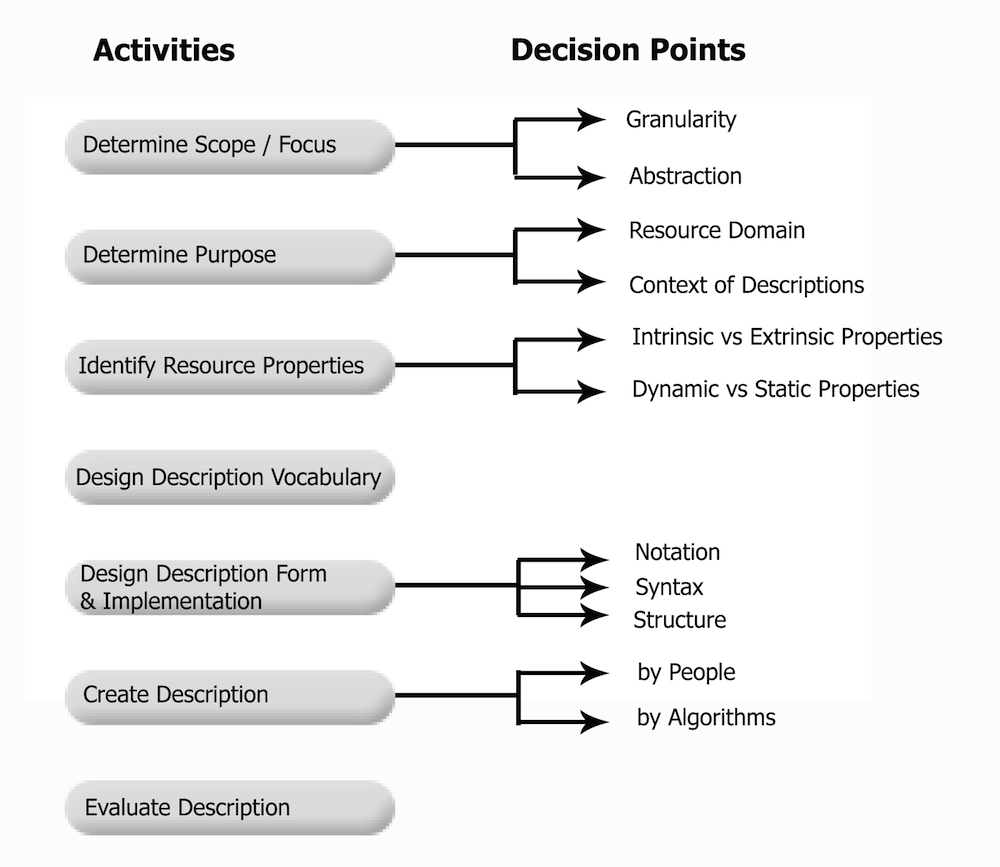 How explicit and systematic each step needs to be depend on the resource domain and scope, and especially on the intended users of the organizing system. If we look carefully, we can see most of these steps taking place even in very informal contexts, like the kids playing with Lego blocks with which we started this chapter. The goal of building things with the blocks leads the boys to identify which properties are most useful to analyze. They develop descriptions of the blocks that capture the specific values of the relevant properties. Finally, they evaluate their descriptions by using them when they play together; it becomes immediately obvious that a description is not serving its purpose when one boy hands a block to another that was not the one he thought he had asked for.
In contrast, a picture-taking scenario involves a much more explicit and systematic process of resource description. The resource properties, description vocabulary, and description form used automatically by a digital camera were chosen by an industry association and published as a technical specification implemented by camera and mobile phone manufacturers worldwide.
The resource descriptions used by libraries, archives, and museums are typically created in an even more explicit and systematic manner. Like the descriptions of the digital photo, the properties, vocabulary, and form of the descriptions used by their organizing systems are governed by standards. However, there is no equivalent to the digital camera that can create these descriptions automatically. Instead, highly trained professionals create them meticulously.
A great many resources and their associated descriptions in business and scientific organizing systems are created by automated or computational processes, so the process of describing individual resources is not at all like that in libraries and other memory institutions. However, the process for designing the data models or schemas for the class of resources that will be generated is equally systematic and is typically performed by highly skilled data analysts and data modelers.
Determining the Scope and Focus
Which resources do we want to describe? As we saw in Resources in Organizing Systems, determining what will be treated as a separate resource is not always easy, especially for resources with component parts and for information resources where the most important property is their content, which is not directly perceivable. Identifying the thing you want to describe as precisely as practical is the first step to creating a useful description.
In "Resource Focus", we introduced the contrast between primary resources and description resources, which we called resource focus. Determining the resource focus goes hand in hand with determining which resources we intend to describe; these often arbitrary decisions then make a huge difference in the nature and extent of resource description. One person's metadata is another person's data.
For a librarian, the price of a book might be just one more attribute that is part of the book's record.

For an accountant at a bookstore, the price of that book—both the cost to buy the book and the price at which it is then sold to customers—is critical information for staying in business.

In a medical records context, a patient's insurance provider isn't of much concern to the doctor, but to the person responsible for billing, it is central. For the nurse, the patient's current vital signs may be of most importance, while for the doctor, it may be most important to understand how those data in aggregate serve to indicate a longer-term prognosis of the patient's health.

A scientist studying comparative anatomy preserves animal specimens and records detailed physical descriptions about them, but a scientist studying ecology or migration discards the specimens and focuses on describing the context in which the specimen was located.
Describing Instances or Describing Collections
It is simplest to think of a resource description as being associated with another individual resource. As we discussed in Resources in Organizing Systems, it is challenging to determine what to treat as an individual resource when resources are themselves objects or systems composed of other parts or resources. For example, we sometimes describe a football team as a single resource and at other times we focus on each individual player. However, after deciding on resource granularity, the question remains whether each resource needs a separate description.
Libraries and museums specialize in curating resource descriptions about the instances in their collections. Resource descriptions are also applied to classes or collections of resources, because a collection is also a resource ("The Concept of "Collection""). Archives and special collections of maps are typically assigned resource descriptions, but each document or map contained in the collection does not necessarily have its own bibliographic description. Similarly, business and scientific datasets are invariably described at collection-level granularity because they are often analyzed in their entirety.
Furthermore, the granularity of description for a collection of resources tends to differ for different users or purposes. An investor who owns many different stocks focuses on their individual prices, while other investors put their money in index funds that combine all the separate prices into a single value.
Many web pages, especially e-commerce product catalogs and news sites, are dynamically assembled and personalized from a large number of information resources and services that are separately identified and described in content management and content delivery systems. However, a highly complex collection of resources that comes together in a single page is treated as a single resource when that page appears in a list of search engine results. Moreover, all of the separately generated pages can be given a single description when a user creates a bookmark to make it easy to return to the home page of the site.
Abstraction in Resource Description
We can also associate resource descriptions with an entire type or domain of resources. (See "Preserving Resource Types" and "Resource Domain".) A collection of resource descriptions is vastly more useful when every resource is described using common description elements or terms that apply to every resource. A schema (or model, or metadata standard) specifies the set of descriptions that apply to an entire resource type. Sometimes this schema, model, or standard is inferred from or imposed on a collection of existing resources to ensure more consistent definitions, but more often, it is used as a specification when the resources are created or generated in the first place. (See What about "Creating" Resources? in "Introduction".)
A relational database, for example, is easily conceptualized as a collection of records organized as one or more tables, with each record in its own row having a number of fields or attributes that contain some prescribed type of content. Each record or row in the database table is a description of a resource—an employee, a product, anything—and the individual attribute values, organized by the columns and rows of the table, are distinct parts of the description for some particular resource instance, like employee 24 or product 8012C.[1]
The information resources that we commonly call documents are, by their nature, less homogeneous in content and structure than those that can be managed in databases. Document schemas, commonly represented in SGML or XML, usually allow for a mixture of data-like and textual descriptive elements.
XML schema languages have improved on SGML and XML by expressing the description of the document schema in XML itself, making it easy to create resources using the metadata as a template or pattern. XML schemas are often used as the specifications for XML resources created and used by information-intensive applications; in this context, they are often called XML vocabularies. XML schemas can be used to define web forms that capture resource instances (each filled-out form). XML schemas are also used to describe the interfaces to web services and other computational resources.[2]
Scope, Scale, and Resource Description
If we only had one thing to describe, we could use a single word to describe it: "it." We would not need to distinguish it from anything else. A second resource implies at least one more term in the description language: "not it." However, as a collection grows, descriptions must become more complex to distinguish not only between, but also among resources.
Every element or term in a description language creates a dimension, or axis, along which resources can be distinguished, or it defines a set of questions about resources. Distinctions and questions that arise frequently need to be easy to address, such as:
What is the name of the resource?

Who created it?

What type of content or matter does it contain?
Therefore, as a collection grows, the language for describing resources must become more rigorous, and descriptions created when the collection was small often require revision because they are no longer adequate for their intended purposes.[3]
This co-evolution of descriptive scope and description complexity is easy to see in the highly complex bibliographic descriptions created by professional catalogers. The commonly used Anglo-American Cataloguing Rules(AACR2) cataloging standards distinguish 11 different categories of resources and specify several hundred descriptive elements. AACR2 has recently been superseded by the Resource Description and Access(RDA) standards, which make fine-grained distinctions about content, media type, and carrier (technology).[4]
Because the task of library resource description has been standardized at national and international levels, cataloging work is distributed among many describers whose results are shared. The principle of standardization has been the basis of centralized bibliographic description for a century.
Centralized resource description by skilled professionals works for libraries, but even in the earliest days of the web many library scientists and web authoring futurists recognized that this approach would not scale for describing web resources. In 1995, the Dublin Core(DC) metadata element set with only 15 elements was proposed as a vastly simpler description vocabulary that people not trained as professional catalogers could use. Since then, the Dublin Core initiative has been highly influential in inspiring numerous other communities to create minimalist description vocabularies, often by simplifying vocabularies that had been devised by professionals for use by non-professionals.[5]
Of course, a simpler description vocabulary makes fewer distinctions than a complex one; replacing "author," "artist," "composer" and many other descriptions of the person or non-human resource responsible for the intellectual content of a resource with just "creator" (as Dublin Core does) results in a substantial loss of precision when the description is created and can cause misunderstanding when the descriptions are reused.[6]
The negative impacts of growing scope and scale on resource description can sometimes be avoided if the ultimate scope and scale of the organizing system is contemplated when it is being created. It would not be smart for a business with customers in six US states to create an address field in its customer database that only handled those six states; a more extensible design would allow for any state or province and include a country code. In general, however, just as there are problems in adapting a simple vocabulary as scope and scale increase, designing and applying resource descriptions that will work for a large and continuously growing collection might seem like too much work when the collection at hand is small.
The challenges that arise with large description vocabularies are transformed when resource descriptions are created and assigned by computer algorithms. A large dataset might contain many thousands of descriptions for each resource, but clearly the computer does not have cognitive difficulty generating or using them. However, computer models with this many features can be hard for people to understand and trust.
Determining the Purposes
Resource description serves many purposes, and the mix of purposes and the resulting kinds of descriptions in any particular organizing system depends on the scope and scale of the resources being organized. We can identify and classify the most common purposes using the four activities that occur in every organizing system: selecting, organizing, interacting with, and maintaining resources (see Activities in Organizing Systems). Resource description also has a more open-ended purpose in sensemaking and science (see "Resource Description for Sensemaking and Science"); we observe and describe the world to make sense of our experiences and to predict future observations.
Identifying Properties
Once the purposes of description have been established, we need to identify the specific properties of the resources that can satisfy those purposes. There are four reasons why this task is more difficult than it initially appears.
First, any particular resource might need many resource descriptions, all of which relate to different properties, depending on the interactions to be supported and the context in which they take place. Selecting people for a basketball team focuses on their physical properties such as height, strength, leaping ability, and coordination. Selections for a debate team will be more concerned with their verbal and intellectual properties.

Second, different types of resources need to incorporate different properties in their descriptions. For resources in a museum, these might include materials and dimensions of pieces of art; for files and services managed by a network administrator, these include access control permissions; for electronic books or DVDs, they would include the digital rights management (DRM) code that expresses what you can and cannot do with the resource.

Third, as we briefly touched on in "Scope, Scale, and Resource Description", which properties participate in resource descriptions depends on who is doing the describing. It makes little sense to expect fine-grained distinctions and interpretations about properties from people who lack training in the discipline of organizing. We will return to this tradeoff in "Creating Resource Descriptions" and again in "Describing Museum and Artistic Resources".

Fourth, what might seem to be the same property at a conceptual level might be very different at an implementation level. Many resources have a resource description that is a surrogate or summary of the primary resource. For photos, paintings, and other resources whose appearance is their essence, an appropriate summary description can be a smaller, reduced resolution photo of the original. This surrogate is simple to create and easy for users to relate to the primary resource. On the other hand, distilling a text down to a short summary or abstract is a skill unto itself. Time-based resources provide greater challenges for summary. Should the summary of a movie be a textual summary of the plot, a significant clip from the movie, a video summary, or something else altogether?

This implementation gap is often very large for properties about people because people are not as easy to measure as most types of resources. Businesses need to quantify a person's interest in their products to predict what price they would be willing to pay, but "interest" cannot be measured directly. Instead, predictions rely on proxy measures for "interest" like how long the customer looked at the product web page and whether they also looked at a competitor's web page.
Two important dimensions for understanding and contrasting resource properties used in descriptions and organizing principles are: property essence—whether the properties are intrinsically or extrinsically associated with the resource, and; property persistence—whether the properties are static or dynamic. Taken together these two dimensions yield four categories of properties, as illustrated in Figure: Property Essence x Persistence: Four Categories of Properties. These four categories provide a useful framework for thinking about resource properties, even if, at times, the classification of properties is debatable.[24]
Property Essence x Persistence:
Four Categories of Properties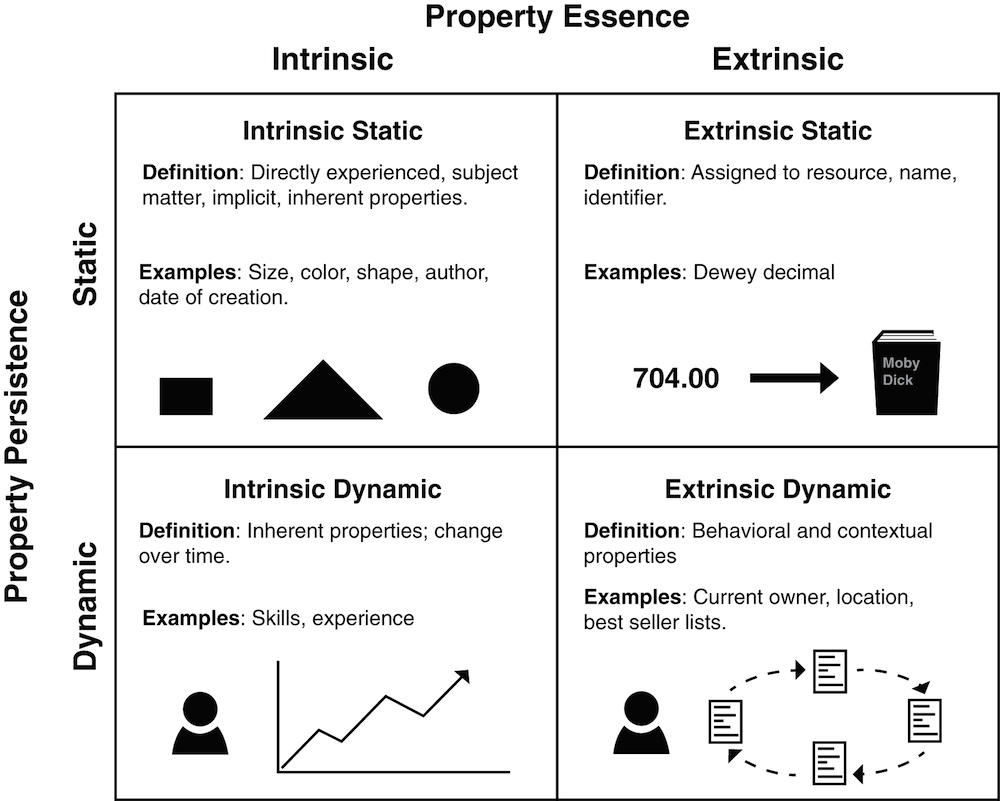 Intrinsic Static Properties
Intrinsic or implicit properties are inherent in the resource and can often be directly perceived or experienced. Static properties do not change their values over time. The species of an animal, the material of composition of a wooden chair, and the diameter of a wheel are all static properties that do not change their values over time. Static properties like color or shape are often used to describe and organize physical resources.
Intrinsic physical properties are usually just part of resource descriptions. In many cases, physical properties describe only the surface layer of a resource, revealing little about what something is or its original intended purpose, what it means, or when and why it was created. The author of a song and the context of its creation are other examples of intrinsic and static resource properties that are not directly perceivable.
Intrinsic descriptions are often extracted or calculated by computational processes. For example, a computer program might calculate the frequency and distribution of words in some particular document. Similarly, visual signatures or audio fingerprints are intrinsic descriptions ("Describing Non-text Resources").
Some relationships among resources are intrinsic and static, like the parent-child relationship or the sibling relationship between two children with the same parents. Part-whole or compositional relationships for resources with parts are also intrinsic static properties often used in resource descriptions. However, it is better to avoid treating resource relationships as properties, and instead express them as relations. Describing Relationships and Structures discusses part-whole and other semantic relationships in great detail.
Extrinsic Static Properties
Extrinsic or explicit properties are assigned to a resource rather than being inherent in it. The name or identifier of a resource is often arbitrary but once assigned does not usually change. Arranging resources according to the alphabetical or numerical order of their descriptive identifiers is a common organizing principle. Classification numbers and subject headings assigned to bibliographic resources are extrinsic static properties, as are the serial numbers stamped on or attached to manufactured products.
For information resources that have a digital form, the properties of their printed or rendered versions might not be intrinsic. Some text formats completely separate content from presentation, and as a result, style sheets can radically change the appearance of a printed document or web page without altering the primary resource in any way. For example, were a different style applied to this paragraph to highlight it in bold or cast in 24-point font, its content would remain the same.
Intrinsic Dynamic Properties
Intrinsic dynamic properties change over time. Developmental personal characteristics like a person's height and weight, skill proficiency, or intellectual capacity, for example. Because these properties are not static, they are usually employed only to organize resources whose membership in the collection is of limited duration. Sports programs or leagues that segregate participants by age or years of experience are using intrinsic dynamic properties to describe and organize the resources.
Extrinsic Dynamic Properties
Extrinsic dynamic properties are in many ways arbitrary and can change because they are based on usage, behavior, or context. The current owner or location of a resource, its frequency of access, the joint frequency of access with other resources, its current popularity or cultural salience, or its competitive advantage over alternative resources are typical extrinsic and dynamic properties that are used in resource descriptions. A topical book described as a best seller one year might be found in the discount sales bin a few years later. A student's grade point average is an extrinsic dynamic property.
Extrinsic dynamic properties are useful features for data scientists making prediction or classification models. Your current location, the thing you just bought, and the place you bought it can be viewed as manifestations of unobservable preferences and values. Fingerprints found on a doorknob at a crime scene are an extrinsic dynamic property associated with the door, and clever detectives would analyze them along with other interaction resources they discovered with the goal of identifying the person for whom the fingerprints are intrinsic static properties.
Many relationships between resources are extrinsic and dynamic properties, like that of best friend.
Contextual properties are those related to the situation or context in which a resource is described. Dey defines context as "any information that characterizes a situation related to the interactions between users, applications, and the surrounding environment." [25] This open-ended definition implies a large number of contextual properties that might be used in a description; crisper definitions of context might be "location + activity" or "who, when, where, why." Since context changes, context-based descriptors might be appropriate when assigned but can have limited persistence and effectivity ("Resources over Time"); the description of a document as "receipt of a recent purchase" will not be useful for very long.
Citations of one information resource by another are extrinsic static descriptions when they are in print form, but when they are published in digital libraries it is usually the case that "cited by" is a dynamic resource description. Similarly, any particular link from one web page to another is an extrinsic static description, but because many web pages themselves are highly dynamic, we can also consider links as dynamic as well. Citations and web links are discussed in more detail in Describing Relationships and Structures.
Resources are often described with cultural properties that derive from conventional language or culture, often by analogy, because they can be highly evocative and memorable. [27]
Sometimes a cultural description outlives its salience, losing its power to evoke anything other than puzzlement about what it might mean.[28]
For the Lego boys, current with the latest Star Wars movies, "light saber" was just the obvious description for a long, neon tube with a handle. However, someone unfamiliar with the Star Wars franchise might not understand"light saber," and would describe the piece some other way.
Designing the Description Vocabulary
After we have determined the properties to use in resource descriptions, we need to design the description vocabulary: the set of words or values that represent the properties. "Naming Resources" discussed the problems of naming and proposed principles for good names, and since names are a very important resource description, much of what we said there applies generally to the design of the description vocabulary.
However, because the description vocabulary as a whole is much more than just the resource name, we need to propose additional principles or guidelines for this step. In addition, some new design questions arise when we consider all the resource descriptions as a set whose separate descriptions are created by many people over some period of time.
Designing the Description Form
By this step in the process of resource description we have made numerous important decisions about which resources to describe, the purposes for which we are describing, them, and the properties and terms we will use in the descriptions. As much as possible we have described the steps at a conceptual level and postponed discussion of implementation considerations about the notation, syntax, and deployment of the resource descriptions separately or in packages. Separating design from implementation concerns is an idealization of the process of resource description, but is easier to learn and think about resource description and organizing systems if we do. We discuss these implementation issues in The Forms of Resource Descriptions.
Sometimes we have to confront legacy technology, existing or potential business relationships, regulations, standards conformance, performance requirements, or other factors that have implications for how resource descriptions must or should be implemented, stored, and managed. We will take this more pragmatic perspective in The Organizing System Roadmap, The Organizing System Roadmap, but until then, we will continue to focus on design issues and defer discussion of the implementation choices.
Creating Resource Descriptions
Resource descriptions can be created by professionals, by the authors or creators of resources, by users, or by computational or automated means.
From the traditional perspective of library and information science with its emphasis on bibliographic description, these modes of creation imply different levels of description complexity and sophistication; Taylor and Joudrey suggest that professionals create rich descriptions, untrained users at best create structured ones, and automated processes create simple ones.
This classification reflects a disciplinary and historical bias more than reality. "Simple" resource descriptions are "no more than data extracted from the resource itself… the search engine approach to organizing the web through automated indexing techniques."[33]
It might be fair to describe an inverted index implementation of a Boolean information retrieval model as simple, but it is clearly wrong to consider what Google and other search engines do to describe and retrieve web resources as simple.[34]
A better notion of levels of resource description is one based on the amount of interpretation imposed by the description, an approach that focuses on the descriptions themselves rather than on their methods of creation. We will discuss this sort of approach in "Describing Museum and Artistic Resources" in the context of describing museum and artistic resources.
Professionally-created resource descriptions, author- or user-created descriptions, and computational or automated descriptions each have strengths and limitations that impose tradeoffs. A natural solution is to try to combine desirable aspects from each in hybrid approaches. For example, the vocabulary for a new resource domain may arise from tagging by end users but then be refined by professionals, lay classifiers may create descriptions with help from software tools that suggest possible terms, or software that creates descriptions can be improved by training it with human-generated descriptions, a form of supervised learning (see "Categories Created by Clustering").
Often existing resource descriptions can or must be transformed or enhanced to meet the ongoing needs of an organizing system, and sometimes these processes can be automated. We will defer further discussion of those situations to Interactions with Resources. In the discussion that follows we focus on the creation of new resource descriptions where none yet exist.
Resource Description by Professionals
Before the web made it possible for almost anyone to create, publish, and describe their own resources and to describe those created and published by others, resource description was generally done by professionals in institutional contexts. Professional indexers and catalogers described bibliographic and museum resources after having been trained to learn the concepts, controlled descriptive vocabularies, and the relevant standards. In information systems domains professional data and process analysts, technical writers, and others created similarly rigorous descriptions after receiving analogous training. We have called these types of resource descriptions institutional ones to highlight the contrast between those created according to standards and those created informally in ad hoc ways, especially by untrained or undisciplined individuals.[35]
Resource Description by Authors or Creators
The author or creator of a resource can be presumed to understand the reasons why and the purposes for which the resource can be used. And, presumably, most authors want to be read, so they will describe their resources in ways that will appeal to and be useful to their intended users. However, these descriptions are unlikely to use the controlled vocabularies and standards that professional catalogers would use.
Resource Description by Users
Today's web contains a staggering number of resources, most of which are primary information resources published as web content, but many others are resources that stand for "in the world" physical resources. Most of these resources are being described by their users rather than by professionals or by their authors. These "at large" users are most often creating descriptions for their own benefit when they assign tags or ratings to web resources, and they are unlikely to use standard or controlled descriptors when they do so.[36] The resulting variability can be a problem if creating the description requires judgment on the tagger's part. Most people can agree on the length of a particular music file but they may differ wildly when it comes to determining to which musical genre that file belongs. Fortunately most web users implicitly recognize that the potential value in these "Web 2.0" or "user-generated content" applications will be greater if they avoid egocentric descriptions. In addition, the statistics of large sample sizes inevitably leads to some agreement in descriptions on the most popular applications because idiosyncratic descriptions are dominated in the frequency distribution by the more conventional ones.[37]
We are not suggesting that professional descriptions are always of high quality and utility, and socially produced ones are always of low quality and utility.[38] Rather, it is important to understand the limitations and qualifications of descriptions produced in each way. Tagging lowers the barrier to entry for description, making organizing more accessible and creating descriptions that reflects a variety of viewpoints. However, when many tags are associated with a resource, it increases recall while decreasing precision. (See "Resource Description by Users")
Automated and Computational Resource Description
A picture's EXIF file created by a digital camera records properties associated with the camera and its settings, as well as some properties of the photo-taking context. (See Figure: Contrasting Descriptions for a Work of Art. for an example.) Creating this highly detailed description by hand would be nearly impossible. The downside, however, is that the automated description does not capture the meaning of the photo; an automated picture description captures the time and place, but not that it is a picture of a honeymoon vacation. The difference between automated and human description is called the semantic gap ("The Semantic Gap").
Any resource that is smart enough to collect data about its state or environment is creating resource descriptions automatically (See "Active or Operant Resources"). Resources with computational capabilities can process the raw sensor data to identify important events and create more interpretable descriptions.
Some computational approaches create resource descriptions that are similar in purpose to those created by human describers. Text mining and summarization systems for customer comments about products can reduce thousands of comments to a list of the most important features.[39] People shopping for books at Amazon.com get insights about a book's content and distinctiveness from the statistically improbable phrases that it has identified by comparing all the books for which it has the complete text.[40]
Computational descriptions can use any observable or latent variable (see the sidebar, Latent Feature Creation and Netflix Recommendations) except some that are prohibited by law, such as race, religion, national origin, and marital status, to prevent discrimination. In practice, however, this prohibition is easily circumvented because these properties can usually be predicted using other ones. For example, race can often be reliably predicted using residence address and surname.[41]
Of course, all information retrieval systems compare a description of a user's needs with descriptions of the resources that might satisfy them. IR systems differ in the resource properties they emphasize; word frequencies and distributions for documents in digital libraries, links and navigation behavior for web pages, acoustics for music, and so on. These different property descriptions determine the comparison algorithms and the way in which relevance or similarity of descriptions is determined. We say a lot more about this in "Describing Non-text Resources" and in Interactions with Resources.
Evaluating Resource Descriptions
Evaluation is implicit in many of the activities of organizing systems we described in Activities in Organizing Systems and is explicit when we maintain a collection of resources over time. In this section, we focus on the narrower problem of evaluating resource descriptions.
Evaluating means determining quality with respect to some criteria or dimensions. Many different sets of criteria have been proposed; for repositories of digital resources, the most commonly used ones are accuracy, completeness, and consistency.[42] Other typical criteria are timeliness, interoperability, and usability. It is easy to imagine these criteria in conflict; efforts to achieve accuracy and completeness might jeopardize timeliness; enforcing consistency might preclude modifications and personalizations that would enhance usability.
The quality of the outcome of the multi-step process proposed in this chapter is a composite of the quality created or squandered at each step. A scope that is too granular or abstract, overly ambitious or vague intended purposes, a description vocabulary that is hard to use, or giving people inadequate time to create good descriptions can all cause quality problems, but none of these decisions is visible at the end of the process where users interact with resource descriptions.
Evaluating the Creation of Resource Descriptions
When professionals create resource descriptions in a centralized manner, which has long been the standard practice for many resources in libraries, there is a natural focus on quality at the point of creation to ensure that the appropriate controlled vocabularies and standards have been used. However, the need for resource description generalizes to resource domains outside of the traditional bibliographic one, and other quality considerations emerge in those contexts.
Resource descriptions in private sector firms are essential to running the business and in interacting efficiently with suppliers, partners, and customers. Compared to the public sector, there is much greater emphasis on the economics and strategy of resource description.[43] What is the value of resource description? Who will bear the costs of producing them? Which of the competing industry standards will be followed? Some of these decisions are not free choices as much as they are constraints imposed as a condition of doing business with a dominant economic partner, which is sometimes a governmental entity.
For example, a firm like Wal-Mart with enormous market power can dictate terms and standards to its suppliers because the long-term benefits of a Wal-Mart contract usually make the initial accommodation worthwhile. Likewise, governments often require their suppliers to conform to open standards to avoid lock-in to proprietary technologies. [44]
In both the public and private sectors there is increased use of computational techniques for creating resource descriptions because the number of resources to be described is simply too great to allow for professional description. A great deal of work in text data mining, web page classification, semantic enrichment, and other similar research areas is already under way and is significantly lowering the cost of producing useful resource descriptions. Some museums have embraced approaches that automatically create user-oriented resource descriptions and new user interfaces for searching and browsing by transforming the professional descriptions in their internal collections management systems.[45] Google's ambitious project to digitize millions of books has been criticized for the quality of its algorithmically extracted resource descriptions, but we can expect that computer scientists will put the Google book corpus to good use as a research test bed to improve the techniques.[46]
Web 2.0 applications that derive their value from the aggregation and interpretation of user-generated content can be viewed as voluntarily ceding their authority to describe and organize resources to their users, who then tag or rate them as they see fit. In this context the consistency of resource description, or the lack of it, becomes an important issue, and many sites are using technology or incentives to guide users to create better descriptions.
Evaluating the Use of Resource Descriptions
Regardless of, or in addition to, any quality criteria applied to the creation and selection of resource descriptions, at some point the resource descriptions meet their intended users. The most important quality criterion at that point is whether the resource descriptions satisfy their intended purposes in a usable way. In many ways, the answer is a disappointing no.
For example, in one of the earliest revisions to the original HTML specification, a <META> tag was added to allow creators of web resources to define a set of key terms to describe a website or web page. This well-motivated resource description was to be used by search engines to improve the relevance of retrieved pages. However, it soon became obvious that it was possible to "game" the META tag by adding popular terms even though they did not accurately describe the page. Today search engines ignore the <META> tag for ranking pages, but many other techniques that use false resource descriptions continue to plague web users. (See "Social and Web Curation".)
The design of a description vocabulary circumscribes what can be said about a resource, so it is important to recognize that it implicitly determines what cannot be said as well, with unintended negative consequences for users. The resource description schema implemented in a physician's patient management system defines certain types of recordable information about a patient's visit—the date of the visit, any tests that were ordered, a diagnosis that was made, a referral to a specialist. The schema, and its associated workflow, impose constraints that affect the kinds of information medical professionals can record and the amount of space they can use for those descriptions. Moreover, such a schema might also eliminate vital unstructured space that paper records can provide, where doctors communicate their rationale for a diagnosis or decision without having to fit it into any particular box.
However, when resource descriptions are the data used to train models for prediction or classification, the focus of evaluation is not on the descriptions, which are often assumed to be accurate observations about the world. Instead, evaluation focuses on the model, and "model selection" is the task of choosing which of several competing models best fit the original data while also generalizing well to new data. In any event, any quality problems or selection biases with the original data will undermine the value of whatever model is selected.
The Importance of Iterative Evaluation
The inevitable conflicts between quality goals mean that there will be compromises among the quality criteria. Furthermore, increasing scale in an organizing system and the steady improvements of computational techniques for resource description imply that the nature of the compromise will change over time. As a result, a single evaluation of resource descriptions at one moment in time will not suffice.
This makes usage records, navigation history, and transactional data extremely important kinds of resource descriptions because they enable you to focus efforts on improving quality where they are most needed. Furthermore, for organizing systems with many types of resources and user communities, this information can enable the tailoring of the nature and extent of resource description to find the right balance between "rich and comprehensive" and "simple and efficient" approaches. Each combination of resource type and user community might have a different solution.
The idea that quality is a property of an end-to-end process is embodied in the "quality movement" and statistical process control for industrial processes but it applies equally well to resource description. The central idea is that quality cannot be tested in by inspecting the final products. Instead, quality is achieved through process control—measuring and removing the variability of every process needed to create the products.[47] Explicit feedback from users or implicit feedback from the records of their resource interactions needs are essential as we iterate through the design process and revisit the decisions made there.
---